Come Dine with Manuela
We are delighted to bring you an evening of authentic Italian cuisine from Pasta connoisseur Manuela (Manu).
Manu realised her lifelong dream of bringing the art of making fresh pasta to Ireland since moving to the North West from Milan, Italy. Following in her Grandmother "nonna" Olimpia's footsteps, Manu has adapted her grandmother's secret recipes with a modern twist as well as developing a luxury and unique range of fresh pasta products for the Irish market.
Manu has crafted an authentic Italian Menu for the evening commencing with a glass of Prosecco and Bruschetta followed by a Menu of Antipasto Misto, Pappa Al Pomodoro, Main Course and Dessert and paired with the finest Italian Wines from Tindal Wine Merchants. An evening not to be missed.
Authentic Italian Dining Experience |Friday, Jan 20th 2023
MENU
Prosecco & Bruschetta on arrival
***
Antipasto Misto
-Variety Of Italian Cold Meat including Salami, Bresaola, Parma Ham, Mortadella, Coppa
-Selection Of Italian Cheese including Gorgonzola, Fontina, Taleggio, Grana Padano
-Grilled Courgettes & Aubergines - Marinated Overnight In Garlic, Extra Virgin Olive Oil, Lemon Juice, Fresh Mint & Parsley
Served with succulent Figs, a mix of Grapes & a choice of Focaccia Bread, Crackers & Bread Sticks
**
Pappa Al Pomodoro
Prepare your palate before your main course with our Italian tomato velouté served within a bread basket
***
Main Course
All made with Fresh Handmade Pasta
Homemade Bacon And Cabbage Ravioli Baked With Hemp And Spirulina Flour, Dressed In Butter, Garlic & Pancetta Sauce On A Bed Of Potatoe Velouté' Garnished With Parmesan
Homemade Charcol Cavatelli Dressed With Salmon, Cooked In Verdicchio White Wine And A Creamy Sauce, Garnished With Fresh Dill And Lemon Zestz
Carnaroli Risotto Italian Style With Porcini Mushrooms And Parmesan Cheese (vegetarian option)
**
Dessert
Come Dine With Manu Homemade Tiramisu
Enjoy a complimentary wine tasting on the night, paired to perfectly compliment Manuelas dishes.


---

Package Options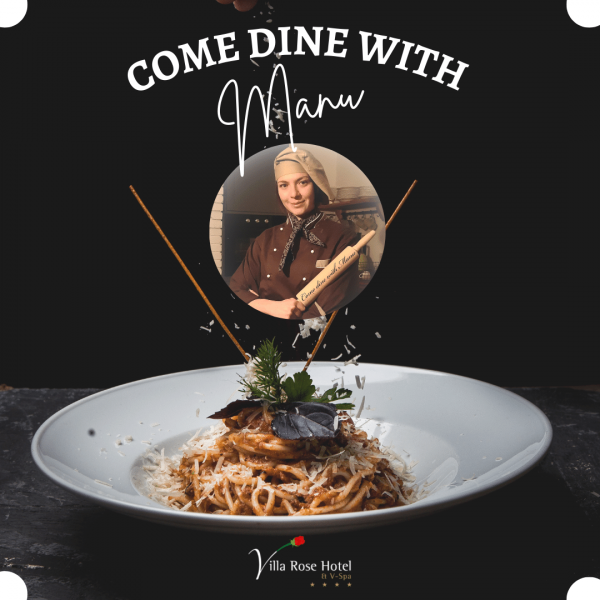 4-Course Authentic Italian Dining Experience
€45 each
B&B plus 4-Course Authentic Italian Dining Experience
€99 per person sharing
Book for Dinner or Make a Night of it with an Overnight Stay & Breakfast!
DINNER BOOKINGS
CALL 074-9132266

OVERNIGHT EXPERIENCE
CALL 074-9132266 OR BOOK ONLINE