COVID-19 Safety Charter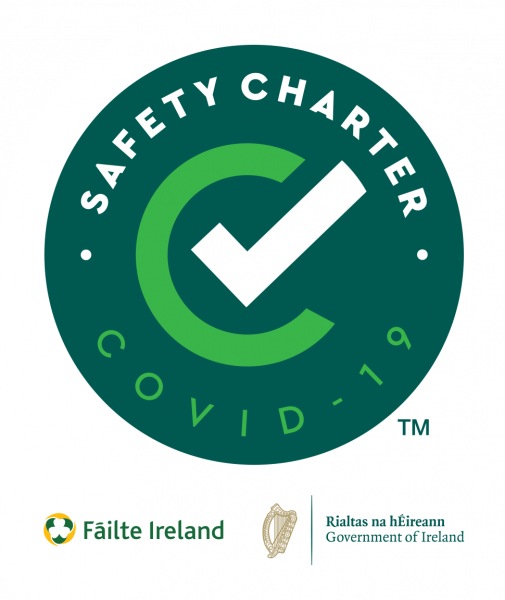 The charter is a Government-endorsed initiative to reinforce confidence in domestic and overseas visitors in tourism businesses. The COVID-19 Safety Charter is designed to give comfort and reassurance to employers, employees and customers that your business has re-opened safely.
Fáilte Ireland has issued sector-specific guidelines for tourism and hospitality businesses to guide them in how best to meet the Government's public health advice; by signing up to this Charter, the Villa Rose and all our employees have agreed to follow the recommended guidelines for our sector.
VILLA ROSE COVID HEALTH & SAFETY MANIFESTO
For the health and safety of our customers and staff we have implemented the following best practice policies.
Dedicated Covid-19 Coordinator managing seating and social distancing

Zoned dining areas

Extension of outdoor seating areas

Guests may be subject to temperature checks; management reserve the right to refuse entry to anyone showing a temperature of 38° or above.

The use of masks in public areas is mandatory

Hand sanitizing stations throughout

Daily Temperature checks for staff

Masks and gloves available for guests

Staff Health and Safety Policy in use. All our staff members are trained in Covid-19 Health and Safety measures.

All employees retrained on Food Safety legislation

Contact tracing policy and record-keeping mandate in place

We have a Covid case response plan covering customers and staff in place and isolation room should a case occur

For your safety and for us to maintain the high standards of hygiene in place, staff will not enter your room once you have checked-in, this means your room will not be serviced during your stay. You can request items required from Reception such as extra towels & toiletries.

A no handshake policy for staff and customers

Separate supplier entrance and exit

Doors are propped open to reduce touchpoints

Floor marking and signs to ensure social distancing and one-way core route for guest to move around dining and public areas

Use of PP policy- masks, screens, shoe covers, gloves for employees as necessary by department

Strict operating procedures for bedroom servicing and sanitising between guests.

Room keys and TV remote UV sanitised and sealed prior to guest arrival.

Acrylic screening at appropriate high interaction locations

Strict in house cleaning processes in public and food preparation areas

Employee back of house social distancing protocols

Employees are separately rostered in colour-coded teams

Dedicated separate food service and drinks service staff

Social distancing and zoned food preparation areas in kitchen production areas

Maintained air circulation in all areas. Air conditioning units serviced more regularly.

All menus are sanitized after every use

Available QR code on tent card to access our menu from your mobile phone

Use of masks or gloves for guests use available

Pre-booking of tables to avoid peaks

All tables, condiment holders are sanitized prior to seating

Cutlery folded into paper napkins and trays are used when serving food and drink

All drinks are served with straws and glassware is handled by the bottom of the glass

Contactless payment available at table

Single-use cloths used during sanitizing process

All staff members had completed medical questionnaire and staff return to work checks conducted

Staff personal stylus used by all staff using till systems

Guest contact information book at the entrance for use of contact tracing

Tables are arranged such as, that distance from the back of one chair to the back of another chair shall be no less than 1 meter apart.

(as per directives at time of publishing)

Maximum time limit of 2 hours per sitting for table rotation.

Strict return to work protocols around any staff returning from abroad or who have been in contact with anyone returning

We are following all HSE guidelines and keeping our team informed on a regular basis and have also sought the advice of Medical professionals on what procedures to implement in our business to ensure the health and safety of our staff and customers

Please don't congregate at the bar and respect others social spacing where possible


---

View all our Covid-19 Policy & Procedures here

Thank you for helping us continue to make it a safe and comfortable environment for everyone to enjoy.
Gallen Hospitality