WEDDING VENUE OF THE YEAR 2023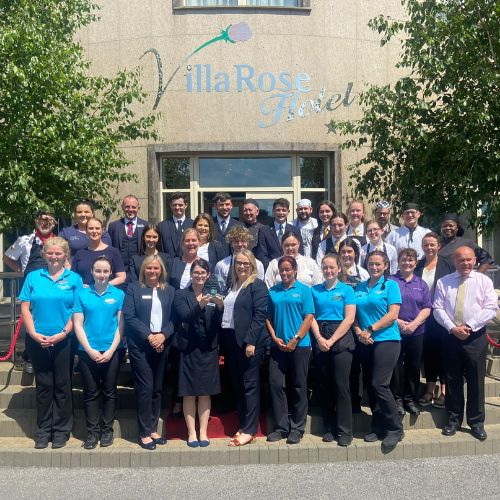 We are proud to announce that we have just been named 'Wedding Venue of the Year' in the Highland Radio Customer Service Awards. This prestigious recognition comes as we unveil our newly refurbished ballroom.
We are thrilled to share that our ballroom refurbishment is the epitome of elegance and sophistication, reflecting our commitment to creating unforgettable wedding celebrations. Step into our newly refurbished ballroom and be enchanted by its timeless beauty and modern allure. Every detail has been meticulously designed to create a captivating atmosphere that leaves a lasting impression. From the exquisite lighting to the stylish decor, our ballroom sets the stage for your perfect wedding experience.
Our revitalized space boasts state-of-the-art facilities, including cutting-edge sound systems and a spacious dance floor, ensuring that every moment of your special day is accompanied by the perfect ambiance. Whether you're planning an intimate gathering or a grand celebration, our refurbished ballroom offers versatile options to suit your unique vision.
In addition to our stunning surroundings, our experienced wedding team provides impeccable service, ensuring that your dream wedding becomes a reality. We are dedicated to personalized planning and offer attentive assistance on the day, going above and beyond to make your celebration truly memorable.
We are honoured to be recognized for our exceptional wedding services and now with our newly refurbished ballroom, Villa Rose Hotel truly embodies elegance and romance. Start your journey of forever at Villa Rose Hotel, where dreams become reality and love is celebrated in style. For more information and to begin planning your award-worthy wedding, please visit our website or contact our dedicated wedding team today.